About Poltava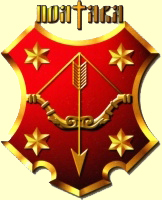 On the edge of the steep bank of the Vorskla River, the City of Poltava raises to the sky with the domes of Hrestovozdvyzhenskyi Monastery's and Faith-Hope-Love cathedrals. It is a cradle of the Ukrainian literature's father Ivan Kotliarevskyi and a space rocket's builder Yuriy Kondratiuk (O. Sharhei).
Not to visit the ancient city traveling around means not to see sources of the Ukrainian state, not to get to know the Ukrainian culture, a soul of Slavonic people. History of Ltava (Poltava) goes back to the depth of the Stone Age - the late Paleolithic period (1100 BC), Scythians' settlements (9-7 centuries BC), a fortress of an ancient settlement on the Ivanova Mountain - a Slavonic centre of annalistic Siveriany (8-10 AD).
The first mention about an Old Russian settlement Ltava - a sotnia's centre of the Kyiv Rus' defense on the border of the Wild Field with Polovtsi - can be found in "Tale of Bygone Years" in the year 1174.
Legends of the city about valiant campaigns of Russian Princes and Zaporizhzhia Cossacks reached our ears in Marusia Churai's songs and Samiylo Velichko's chronicles.
To the world history Poltava fortress entered as a centre of struggle of the colonel Martyn Pushkar with Polish magnates (1648 - 1658) and place of the troops of the Swedish king Karl XII crushing defeat by Russian troops of tzar Peter I during the Northern War (1709). For six months (January - June 1709) the fortress of Poltava was standing a siege of enemy troops in the main battle of two Ukrainian Cossacks' armies, which according to fate's will were fighting on both sides (with hetman Mazepa and hetman Skoropadskyi). Russian Troops aimed a destructive blow to the Swedes and gained a brilliant victory, which became defining in the further European history and fate of Ukraine: it was included to Russian Empire, Zaporizhzhia Cossacks were wiped out, peasants were enslaved, autonomy of the country was abolished.
During World War II Poltava became a centre of "Frantic" (April 1944) - "shuttle" operation of strategic aviation of the USA.
Views and sightseeing of Poltava were admired by Russian tsars Catherina II (1787) and Nikolai II (1909), and great military leaders A. Suvorov, M.Kutuzov, as well as world culture geniuses - Nicolai Gogol, Taras Shevchenko, Oles Gonchar.
On cross-roads of Central Europe and Russia, on crossing of Ukrainian Kyiv-Kharkiv-Sumy motorway, a regional Ukrainian centre Poltava is decorated with new streets and parks, historical monuments, universities, museums and churches of different confessions.
Travelling, bow to the torch-bearers of Ukrainian culture, visit streets of ancient but always young with thousand-year history city of Poltava.
To print ...